ISRO to take up Space Tourism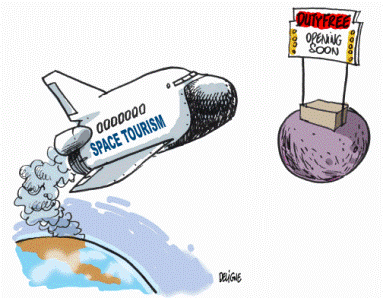 ISRO will be coming up with some affordable solutions
You must be well aware of the "Incredible India" campaign - with tag "Athithi devo Bava" meaning Guest is equal to god. Treating guests with utmost obedience and respect is what all ancient Indian texts preach. Now some may have reservations whether Indians still cling to it - but this respect to Guests is what attracted many foreign travelers and behind them the invaders and behind them colonizers. Ofcourse thats all a big history. The point here is, ISRO may soon come up with "Incredible (or Astonishing) Space" campaign

I am not kidding - The Indian Space Research Organisation (ISRO) is known to be taking space tourism very seriously. Newly-appointed chief of the Indian Space Research Organisation (Isro), Dr K Radhakrishnan says the space agency is exploring new strategies and technologies for human space flight programmes, low-cost access to space tourism and the colonisation of Mars and the Moon.
Thus far space tourism has been very expensive. The Russian Space Agency is providing space tourism. A flight on the Soyuz to the International Space Station is known to have been costing $20-35 million. The space tourists also conduct research for third parties.
Countries like the US, Russia and Japan have already started work to have a habitat in Mars by 2030 and are devising a transportation system to reach Mars.

"Space tourism is something where India can play a niche role with its affordable solutions. However, this will take some time," says Ajey Lele from the Institute for Defence Studies and Analyses (IDSA). But the fact that this is an achievable challenge was evident when he said: "India's Chandrayaan programme was less costly than the private jet gifted by Mukesh Ambani to his wife."

A suborbital spaceship owned by aspiring space tourism operator Virgin Galactic was airlifted into the skies over California's Mojave Desert recently for its debut test flight. The six-passenger ship, VSS Enterprise, remained attached to the center of its carrier aircraft throughout the flight. Virgin Galactic, an offshoot of London-based Virgin Group, has collected about $45 million in deposits and fares from more than 330 amateur astronauts, each of whom will be charged $200,000 to experience a few minutes of suborbital spaceflight.

Back in India, Isro was allocated a budget of $1.27 billion for 2009-2010 and the plan allocation for India's human space flight programme was Rs 5,000 crore. Isro scientists have started work to reach Mars, put an orbiter there by using the capabilities of its workhorse launch vehicles like PSLV (Polar Satellite Launch Vehicle), GSLV (Geosynchronous Satellite Launch Vehicle) and GSLV Mark 3.

"There are various strategies to reach Mars. It is a 250-day journey and there will be opportunities in 2013, 2016 and 2018," said Dr Radhakrishnan, an alumni of IIM-Bangalore. "The previous experiments(like chandrayaan-I) were achieved with a shoestring budget, which is just 3% of Nasa's expenditure on space programmes," said Dr Radhakrishnan. He said that Isro has 2-3 launches a year and in the coming year, they plan 6-8 launches per year.
" We are proud to see India as a front runner in the global comity playing pre-eminent roles in the International forums of space agencies and spacefaring nations. It is equally satisfying to see India's emergence as a significant player in space commerce." he added.
Buoyed by the success of Chandrayaan-I, Indian space scientists now plan to conquer new frontiers by sending robots to the moon in 2012 and a spacecraft to Mars the following year which will also see an Indian astronaut in space. Isro is now developing a heavier cryogenic engine, almost three times powerful than the home-grown cryogenic engine used in GSAT-4, which is going to be launched in April 2010.

So lets gear up guys and try saving money , who knows, may be we will be the part of ISRO's first tourism trip to Moon or even may be Mars

...... ATHITHI DEVO BAVA