PSLV C-16 Successful - Places Resoucesat, Youthsat, X-sat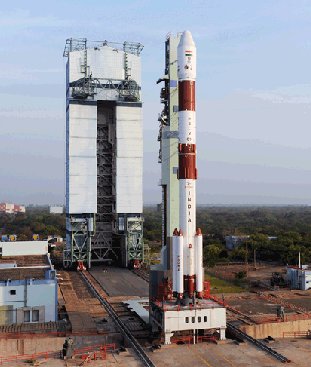 Above - Panoramic view of PSLV-C16 on Launch Pad- Below- RESOURCESAT-2, YOUTHSAT and X-SAT integrated with PSLV-C16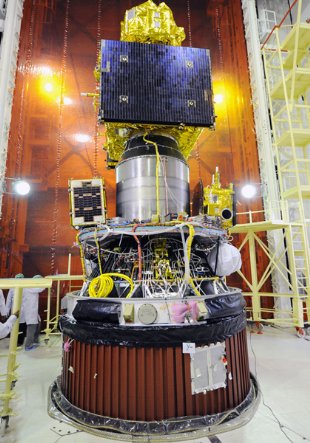 The eighteenth mission of the Polar Satellite Launch Vehicle (PSLV-C16) turned out to be a success on Wednesday, with the rocket placing the 1206 kg Indian Remote Sensing satellite RESOURCESAT-2 as well as 92 kg Indo-Russian YOUTHSAT and the 106 kg X-SAT of Singapore, which are auxiliary payloads – into an 822 km polar Sun Synchronous Orbit (SSO). This was also the seventeenth consecutively successful launch of the PSLV, which has become the Indian Space Research Organisation's (ISRO) workhorse.
This ia relief for the ISRO which has come under fire after s-band spectrum allegations. The PSLV-C16 lifted off at the appointed time of 10.12 a.m. from the first launch pad at the Satish Dhawan Space Centre at Sriharikota. All the four stages of the vehicle, including the strap-on booster motors, ignited on time and separated with clock-work precision. ISRO Chairman K. Radhakrishnan said the PSLV's reliability had been recognized by the international community. The first set of pictures from Resourcesat-2 would be available on April 28, he said.
PSLV has demonstrated multiple satellite launch capability having launched 25 satellites for international customers besides 19 Indian satellites of which thirteen were remote sensing satellites, one meteorological (weather watch) satellite (KALPANA-1), a recoverable capsule (SRE-1), and the spacecraft for India's first mission to Moon, Chandrayaan-1, two small satellites for HAM radio communications and experimental communications and a Pico satellite built by Indian students. PSLV has launched satellites into a variety of orbits, including polar Sun Synchronous, Low Earth, Highly Elliptical and Geosynchronous Transfer Orbits.
About Payloads
The 1206 kg RESOURCESAT-2 is a state-of-the art remote sensing satellite and the eighteenth remote sensing satellite of India. Data from the satellite will help in facilitating a variety of applications including natural resource monitoring, environmental assessments and disaster management related activities.
RESOURCESAT-2 is the latest satellite under the IRS programme. A series of Indian Remote Sensing (IRS) satellites have been launched by India starting with IRS-1A in March 1988. The imaging systems in IRS series of satellites have already demonstrated technological leadership in global earth observation scenario. Nine remote sensing satellites of India are in service at present – TES, RESOURCESAT-1, CARTOSAT-1, CARTOSAT-2, CARTOSAT-2A, IMS-1, RISAT-2, OCEANSAT-2 and CARTOSAT-2B – making IRS system the largest civilian remote sensing satellite constellation in the world.
YOUTHSAT is a joint Indo-Russian stellar and atmospheric satellite mission with the participation of students from Universities at graduate, post graduate and research scholar level. With a lift-off mass of 92 kg, Youthsat is a mini satellite and the second in the Indian Mini Satellite (IMS) series. Youthsat mission intends to investigate the relationship between solar variability and thermosphere-Ionosphere changes. The satellite carries three payloads, of which two are Indian and one Russian. Together, they form a unique and comprehensive package of experiments for the investigation of the composition, energetics and dynamics of earth's upper atmosphere.
X-SAT, the third payload of PSLV-C16, is Singapore's first satellite. Weighing 106 kg at lift-off, X-SAT is a Mini Satellite with a multispectral camera IRIS as its primary payload. X-SAT mission mainly intends to demonstrate technologies related to satellite based remote sensing and onboard image processing.
Click here to download Pdf of the ISRO brochure which gives the details of Satellite and the Launch.