Children's Day - Jawhar Lal Nehru - His Life in Briref
Peace is not a relationship of nations. It is a condition of mind brought about by a serenity of soul. Peace is not merely the absence of war. It is also a state of mind. Lasting peace can come only to peaceful people. - Jawaharlal Nehru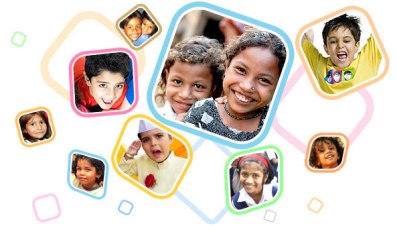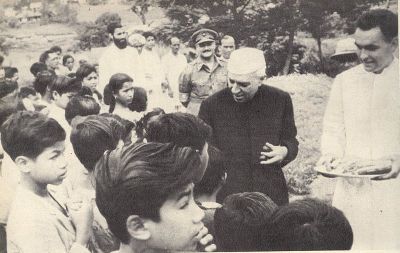 His love and passion for children was so special that children affectionately called him Chacha Nehru.
Each year, Children's Day is celebrated in the spirit of childhood itself. It teaches us to be innocent and inquisitive as a child who enjoys learning in whatever he does with a big smile.
It is a day for children to engage in fun and frolic and is celebrated with special vigor at the school level. Schools across India have special programs for the day, including quiz, fancy dress competitions, children's art exhibitions and so on.Even we people at a small town like Gooty (Anantapur) organised Quizzes and dance competitions for School children and it was a joyful experience.
Children's Day, November 14, marks the birth anniversary of the first Prime Minister of independent India, Pandit Jawaharlal Nehru. His love and passion for children was so special that children affectionately called him Chacha Nehru. Here we try to present his life in brief
Pandit Jawaharlal Nehru, the first Prime Minister of independent India was born at Allahabad on 14 November 1889. He was the only son of Motilal Nehru whose family was originally from Kashmir and Swarup Rani. From the age of 15 to 23 Jawaharlal studied in England at Harrow, Cambridge and the Inner Temple. Returning to India in 1912 and practised law for some years. In 1916, he married Kamala Kaul and the following year they had a daughter, Indira.
Freedom Struggle and Prime Minister
In 1919, Nehru joined the Indian National Congress which was fighting for greater autonomy from the British. He was heavily influenced by the organisation's leader Mohandas Gandhi. During the 1920s and 1930s Nehru was repeatedly imprisoned by the British for civil disobedience. In 1928, he was elected president of the Congress.
By the end of World War Two, Nehru was recognised as Gandhi's successor. He played a central role in the negotiations over Indian independence. He opposed the Muslim League's insistence on the division of India on the basis of religion. Louis Mountbatten, the last British viceroy, advocated the division as the fastest and most workable solution and Nehru reluctantly agreed.
On 15 August 1947, Nehru became the first prime minister of independent India. He held the post until his death in 1964. He Nehru remained the Prime Minister of India for 17 long years and can rightly be called the architect of modern India. . He implemented moderate socialist economic reforms and committed India to a policy of industrialization. He set India on the path of democracy and nurtured its institution - Parliament, multi-party system, independent judiciary and free press. He encouraged Panjayati Raj institutions.
Jawaharlal's best years were from 1947 to maybe 1958-1960. He also had sheer physical courage. There's the story of how during the 1947 riots, he was travelling in his Ambassador car as prime minister and he suddenly saw a Muslim tailor being attacked in Chandni Chowk. And he stopped the car and just charged in. In those days they didn't have the SPG [Special Protection Group, elite commandos who guard the prime minister today] and they didn't have helicopters saving prime ministers. He just charged in using his baton or whatever he used to carry.
Criticism
A Video Showing the Differences between Nehru and Sardar Vallabhai Patel on Kashmir Issue (Hindi)
There were differences between Nehru and Sardar Vallabhai Patel (Home Minister) which led to friction in decision making on some critical issues of National Importance . Though the two committed themselves to joint leadership and non-interference in Congress party affairs, they would criticise each other in matters of policy, clashing on the issues of Hyderabad's integration and UN mediation in Kashmir.
Nehru declined Patel's counsel on sending assistance to Tibet after its 1950 invasion by the People's Republic of China and ejecting the Portuguese from Goa by military force.
Nehru also served as foreign minister of India. In October 1947, he faced conflict with Pakistan over the state of Kashmir, which was disputed at independence. Nehru sent troops into the state to support India's claim.
A United Nations ceasefire was negotiated, but Kashmir remains deeply unstable to this day. Nehru was widely criticized for his indecisiveness in critical moments on issues of National Importance. Some people maintain that he was good at speeches but unable to make a decision at crucial moments. Some analysts still maintain that Sardar Vallabhai Patel could have been a better Prime Minister. Till date some analysts criticize Nehru for not listening to Patel and approaching UN on Kashmir issue. He trusted in Mountbatten , who acting in the favor of British Crown was able to persuade Nehru to approach UN. Click here for Claude Arpi (a well-known Tibet and Kashmir expert)'s article on rediff.com titled "The blunder of the Pandit". You see no individual is perfect. Every individual have some flaws.No politician ever existed without being criticized .
Foreign Policy
Against the background of the Cold War, Nehru developed a policy of 'positive neutrality' for India. Nehru gave a clear direction to India's role in the comity of nations with the policy of non alignment and the principle of Panchsheel, the five principles of peaceful coexistence. It was Nehru who insisted if the world was to exist at all; it must exist as one. He became one of the key spokesmen for the non-aligned countries of Africa and Asia, many of which were former colonies that wanted to avoid dependence on any major power.
Despite efforts at cooperation by both countries, Indian-Chinese border disputes escalated into war in 1962 and Indian forces were decisively beaten. But there was no loss of territory as China withdrew to pre war lines. The war exposed the weaknesses of India's military, and Nehru was widely criticised for his government's insufficient attention to defence. In response, Nehru sacked the defence minister Krishna Menon and sought U.S. military aid. This had a significant impact on Nehru's declining health. He died on 27 May 1964
After Life and Writings
Two years later Nehru's daughter, Indira Gandhi, became prime minister. With an interruption of only three years, she held the post until her assassination in 1984. Her son Rajiv was prime minister of India from 1984 to 1989, but he too was assassinated.
Jawaharlal was a prolific writer in English and wrote a number of books like 'The Discovery of India', 'Glimpses of World History', his autobiography, 'towards Freedom' (1936) ran nine editions in the first year alone. Emotional sensitivity and intellectual passion infused his writings, giving them unusual appeal & topicality even today. He was awarded Bharat Ratna in 1955.
Numerous public institutions and memorials across India are dedicated to Nehru's memory. The Jawaharlal Nehru University in Delhi is among the most prestigious universities in India. The Jawaharlal Nehru Port near the city of Mumbai is a modern port and dock designed to handle a huge cargo and traffic load. Nehru's residence in Delhi is preserved as the Nehru Memorial Museum and Library. The Nehru family homes at Anand Bhavan and Swaraj Bhavan are also preserved to commemorate Nehru and his family's legacy.
The Best Prime Minister India had ? May be...
With the foresight of a statesman he created institutions like Planning Commission, National Science Laboratories and laid the foundation of a vast public sector for developing infrastructure for industrial growth. Besides, developing the public sector, Nehru also wanted to encourage the private sector to establish a social order based on social justice he emphasised the need of planned development. His vision was that of extensive application of science and technology and industrialization for better living and liberation from the clutches of poverty, superstition and ignorance.
Education to him was very important for internal freedom and fearlessness. The Nehru era made an irreversible break with a decaying economy and achieved a growth rate faster even than contemporary China's. Of all the representations of India's early years, the 'Hindu growth' is the most pathetic catchword for it misses by a long shot the extraordinary dynamics of this age. Not only did the era give birth to a genuine republic but nourished it with an unprecedented economic expansion that has few parallels in history.
External Links
India Today's Article on Nehru || The blunder of the Pandit on Rediff.com || Nehru's Economic Legacy on The Hindu Business Line || The Hindu blog article on Jawaharlal Nehru and the Mountbattens