The Forgotten Hero : Shaheed Bhagat Singh - Born 28th September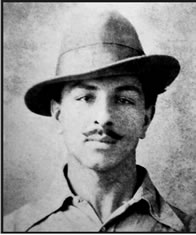 Shaheed Bhagat Singh
Today, that is September 28 (some sources say it as 27th sept) , is one of the most adored and respected Indian freedom fighter, Bhagat Singh's 103rd birth anniversary. Bhagat Singh or Shaheed (Martyr) Bhagat Singh was the biggest revolutionaries of the India's fight for freedom.
"We know that the maxim "Might is right" serves as your guiding motto. The whole of our trial was just a proof of that. We wanted to point out that according to the verdict of your court we had waged war and were therefore war prisoners. And we claim to be treated as such, i.e., we claim to be shot dead instead of to be hanged. It rests with you to prove that you really meant what your court has said.
We request and hope that you will very kindly order the military department to send its detachment to perform our execution." These are the few lines in the Last Petition given by Bhagat Singh to the Governor of Punjab. Of course as usual the Governer has given a deaf year to this Hero and was hanged on 23rd March of 1931.He was 24 when he was hanged. These words show how he conquered fear for death and how he happened to be one of the youngest Martyrs for the sake of country.
Here his Life in Brief,,
Bhagat Singh was born in a Sikh family of farmers in the village of Banga of Layalpur district of Punjab (now in Pakistan) on September 28th of 1907. His family stood for patriotism, reform, and freedom of the country. His grandfather Arjun Singh was drawn to Arya Samaj, a reformist movement of Hinduism, and took keen interest in proceedings of the Indian National Congress. Bhagat Singh's father Kishen Singh and uncle Ajit Singh were members of Ghadr Party founded in the U.S. in early years of this century to route British rule in India.
Young Bhagat Singh was brought up in a politically charged state of Punjab which was left with a seething memory of the Jalianwala massacre of more than 400 innocent lives and thousands injured (1919). As a lad of fourteen he went to this spot to collect soil from the park of Jalianwala (bagh) in his lunch box, sanctified by the blood of the innocent and kept it as a memento for life.
Bhagat Singh was studying at the National College founded by Lala Lajpatrai, a great revolutionary leader and reformist. To avoid early marriage, he ran away from home and, became a member of the youth organization Noujawan Bharat Sabha which had memberships of all sects and religions. He met Chandrashekhar Azad, B.K. Dutt and other revolutionaries. They used to print handouts and newspapers in secret and spread political awareness in India through Urdu, Punjabi and English. These were all banned activities in India at the time, punishable with imprisonment.
The Revenge
The Indian political parties boycotted the Simon commission because it did not include a single Indian as its member and it was met with protests all over the country. When the commission visited Lahore on 30 October 1928, Lala Lajpat Rai led the protest against Simon Commission in a silent non-violent march, but the police responded with violence.Lala Lajpat Rai was beaten with lathis at the chest. He later succumbed to his injuries. Bhagat Singh, who was an eyewitness to this event, vowed to take revenge.
He joined with other revolutionaries, Shivaram Rajguru, Jai Gopal and Sukhdev Thapar, in a plot to kill the police chief, Scott. Jai Gopal was supposed to identify the chief and signal for Singh to shoot. However, in a case of mistaken identity, Gopal signalled Singh on the appearance of J. P. Saunders, a Deputy Superintendent of Police. Thus, Saunders, instead of Scott, was shot. Shahid Bhagat Singh quickly left Lahore to escape the police.
Bombings..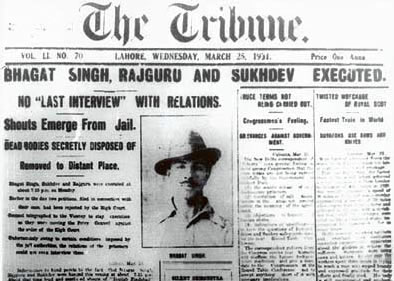 The Lahore Tribune Reporting How the Execution was carried in Haste Killing the Great Heroes of the Country
Instead of finding the root cause for discontent of Indians, the British government took to more repressive measures. Under the Defense of India Act, it gave more power to the police to arrest persons to stop processions with suspicious movements and actions. The act brought in the council was defeated by one vote. Even then it was to be passed in the form of an ordinance in the "interest of the public." No doubt the British were keen to arrest all leaders who opposed its arbitrary actions, and Bhagat Singh who was in hiding all this while, volunteered to throw a bomb in the central assembly where the meeting to pass the ordinance was being held. It was a carefully laid out plot, not to cause death or injury but to draw the attention of the government, that the modes of its suppression could no more be tolerated. It was agreed that Bhagat Singh and Batukeshwar Dutt would court arrest after throwing the bomb.
It was a forgone conclusion in 1929 April 8th at Delhi Central Assembly. Singh and Dutt threw handouts, and bombed in the corridor not to cause injury and courted arrest after shouting slogans Inquilab Zindabad (Long Live, Revolution!)
Singh is himself considered a martyr for acting to avenge the death of Lala Lajpat Rai. In the leaflet he threw in the Central Assembly on 9 April 1929, he stated that "It is easy to kill individuals but you cannot kill the ideas. Great empires crumbled while the ideas survived." After engaging in studies on the Russian Revolution, he wanted to die so that his death would inspire the youth of India which in turn will unite them to fight the British Empire.
He was hanged on 23rd March of 1931.Singh was cremated at Hussainiwala on banks of Sutlej river. Today, the Bhagat Singh Memorial commemorates freedom fighters of India. A museum by the name "Shaheed-e-azam Sardar Bhagat Singh Museum" has been built at his maternal village, where sand and newspaper stained with his blood and his half burnt bones are preserved.
Video Animation In Hindi
This video is a small animation in Hindi on Bhagat Singh . The animation is primitive but is worth watching and covers in Brief the life of a Martyr