Shushruta - The Father of Surgery!!!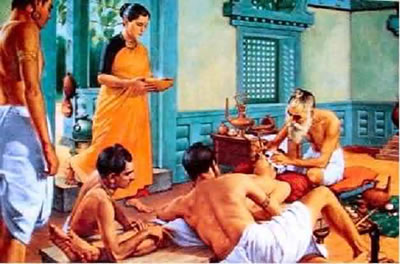 Sushruta was the famous surgeon of Kashi, popularly known as Benares and used to teach and practice medicine around 600 BC.The historic contribution of Sushruta, the ancient surgeon of India, is well recognised for his innovative method of rhinoplasty,1 extracapsular lens extraction in cataract,2 anal and dental surgeries. However, little is known regarding his vivid description of diabetes (madhumeha),angina (hritshoola) and obesity (medoroga).He was a disciple of Dhanwantari, who is recognised as the Lord diety of Ayurveda (science of life) the Indian system of medicine.To Sushrutha, belongs the honor of being called "the FATHER OF SURGERY" and the 'PATRON OF A SURGEON IN TRAINING', as he was the first before all to emphasize on practical training in experimental and clinical surgery.
Sushruta Samhit
The Sushruta Samhita is one of two early texts that form the cornerstone of the Indian medical tradition of Ayurveda (Ayurveda means science of life). The other treatise is called the Charaka Samhita. Samhita is Sanskrit for compendium, and Sushruta and Charaka are proper names. So thetitles translate as "Sushruta's Compendium" and "Charaka's Compendium." Likethe Charaka Samhita, the Sushruta Samhita made revisions and alterations to an earlier text on which it is based, in this case, the writingsof Divodasa Dhanvantari, the author's teacher. The author, Sushruta, is identified as the son of the Vedic sage Visvamitra. The text is long, running over 1,700 pages in English translation. The exact date of its composition is unknown, but is generally thought to be around 100 A.D.
Sushruta details about 650 drugs of animal, plant, and mineral origin.In addition, it describes more than 300 kinds of operations that call for 42different surgical processes and 125 different types of instruments. Other chapters in Sushruta make clear the high value put on the well-being ofchildren, and on that of expectant mothers. Sushruta's coverage of toxicology (the study of poisons) is more extensive than that in Charaka, and goes into great detail regarding symptoms, first-aid measures, and long-term treatment, as well as classification of poisons and methods of poisoning.
The tools(125) mentioned in the book are :


Forceps 20 types


Specula


Scalpels


Scissors


Saws


Cauteries


Syringes


Needles


Trocars


Catheters


Medicine can now be regarded as the oldest of the Indian sciences, and have been proved to be the science in which Indians specialized first-Julius Jolly
In BRIEF
Charaka restricts access to medical training to the three higher orders of society, but Sushruta also admits members of the lowest of the four classes. However, such persons would be excluded from special ceremonies accorded to students of more respectable parentage. Sushruta describesthe day-to-day life of the physician in ancient India, who made the rounds ofpatients' residences and also maintained a consulting room in his own home,complete with a storeroom of drugs and equipment. Although doctors could command a good living, they might also treat learned brahmins--priests--and the poor for free. Sushruta describes the ideal qualities of a nurse, and suggests that doctors may have been required to have licenses.
HINDU MEDICINE WAS AN INDEPENDENT DEVELOPMENT; ARAB MEDICINE WAS FOUNDED ON TRANSLATION OF SANSKRIT TREATISE, AND EUROPEAN MEDICINE DOWN TO THE SEVENTH CENTURY WAS BASED UPON THE LATIN VERSION OF THE ARABIAN TRANSLATION.-SIR WILLIAM HUNTER (1718-1783)
Sushruta described diabetes (madhumeha) as a disease characterised by passage of large amount of urine, sweet in taste, hence the name "madhumeha" — honey like urine. He goes on to say that diabetes primarily affects obese people who are sedentary and emphasised the role of physical activity in amelioration of diabetes.
Though the discovery of circulation is attributed to William Harvey; it is interesting to note that Sushruta had the knowledge of a structure like heart and its role in circulation of "vital fluids" through the 'channels'.
Specific fumigation techniques, Cautery with fire and alkali, Use of Ants to staple wounds, Pre operative sedation like Sammohini Sanjivini were used by him in surgery
He has such an observatory power that he concludes the problems without all these endoscopy, x-ray etc. Now only part of his great collection of works is left over. These works were also preserved by arabs during Dark-age.The patronage of the Abbasid Caliphs at BAGHDAD 762.A.D. and most especially HARUN AL RASHID (786-809) kept the torch of learning alive during the dark ages.
So great were his contributions to medicine and surgery in particular that He is truly THE FATHER OF SURGERY.
Visitors are requested to post their comments and any info they are having thank You