Munnar - kolukkumalai Tea estate and Eravikulam National Park
In our three night stay in munnar - the main places we have visited are kolukkumalai and Eravikulam National Park. Brief of munnar visit is here. We stayed for two nights at Mount Club resort in Chinnakanal. When we have asked the reception desk of the resort where to go , they have suggested to go to kolukkumalai - mainly because it is near to chinnakanal i.e 16kms compared to 32 kms from Munnar. But the main point is, to enjoy kolukkumalai, we have to be there before the sun arrives i.e before sunrise around 05:50 Am.
So we have started at early morning 04:30 am. Kolukkumalai is about 2000m above sea level and is near Suryanelli and chinnakanal . The hill top village is accessible only by jeep due to its rugged and rain drenched roads covering up to 17 km. The exact location of kolukkumalai is in Theni district (Tamil Nadu) . The approach road is via Suryanelli near Munnar in Idukki district of Kerala.
| | |
| --- | --- |
| | |
| Views just before the sun rise | The clouds from the peak |
The Jeep ride is very thrilling that in almost pitch dark, completely bouncy track, none to be seen anywhere except other jeeps like yours - you have to hold on the bars and if weak hearted - have to pay god. The jeep ride costed Rs2300/- for us. And it is worth.The driver we hired was cordial and good.
Some of the photos are below -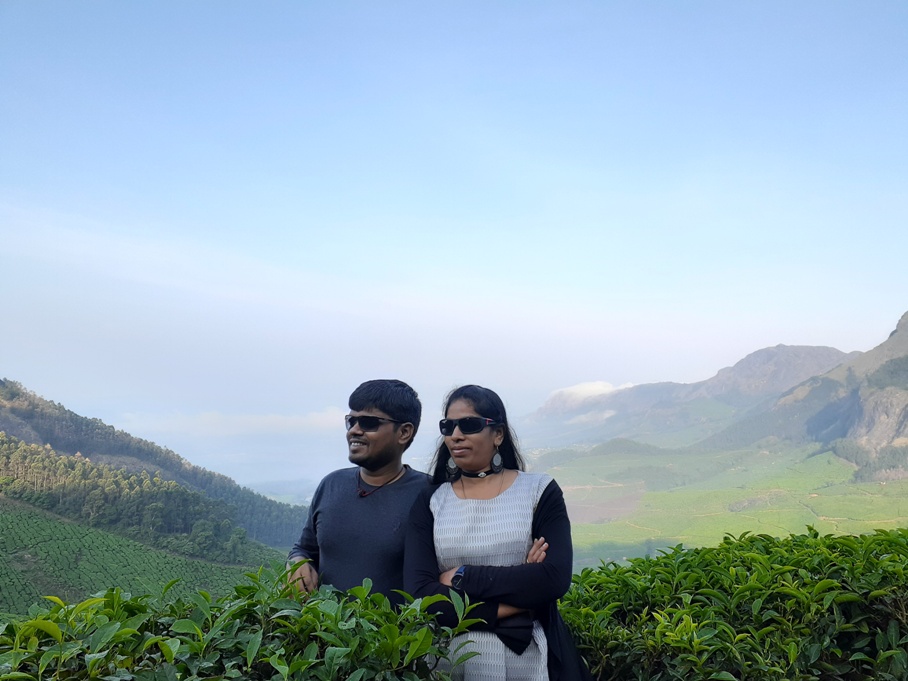 In the Kolukummalai Tea Estate while returning

Our Jeep -Snap taken while returning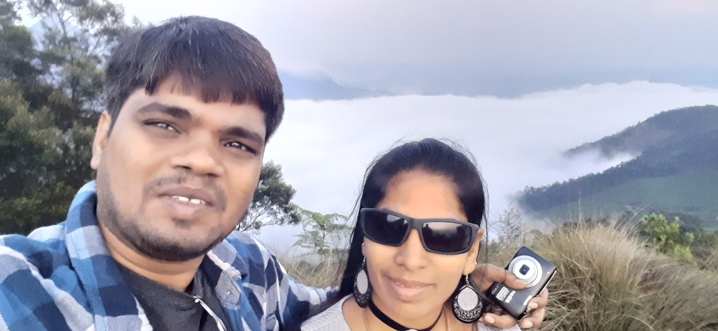 Selfie on the Peak
After rigorous jeep ride - one has to walk for one kilometer to reach the view point. At the peak there is view point, Tamilnadu kerala border, Tiger Peak. Some more sanps -
| | |
| --- | --- |
| | |
| A stroll in the return journey - one cannot dare while going up in the pitch darkness | Snap time on the peak |
| | |
| The Tiger Peak - DIdin't know that it was tiger peak - discovered it after seeing the snap | Hey Tiger - Take my wife away |
We can spend half an hour there - enjoy the nature. The sunrise is very amazing. But people are more busy capturing it on their smart devices rather than savouring it. While returning we visited the tea factory. It is a good experience as we have not visited tea factory earlier. The person has explained it well - the procedure of making tea. We purchased some fresh tea packs. Below image inside the tea factory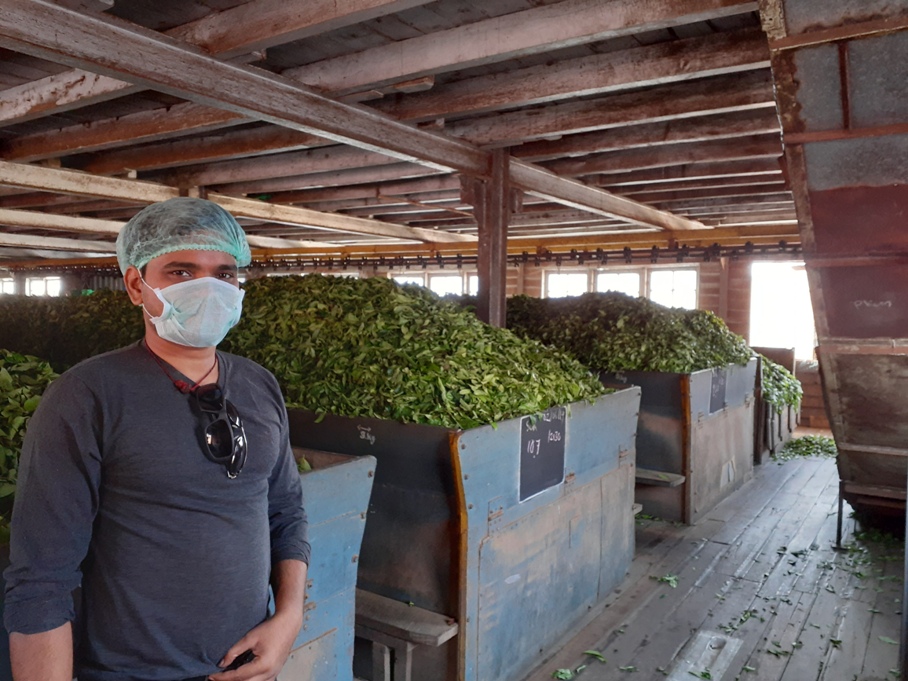 Eravikulam National Park
After spending two nights - and visiting Kolukkumalai in the morning - we have moved to munnar town. We have landed in the Landy queen Homestay. Hiring their auto , we have gone to Eravikulama National park. The park holds the largest viable population of the endangered Nilgiri Tahr (Nilgiritragus hylocrius) and is a famous habitat of Neelakurinji (Strobilanthes kunthianam), which blooms once in 12 years. Apart from Tahr, the park is an abode of other little known fauna such as Nilgiri Marten (endemic), Ruddy Mongoose, Small Clawed Otter, Dusky Striped Squirrel etc. When we reached their, it was raining heavily. From ticket counter, a bus will take the visitors to a point from which people have to walk. When we reached around 03:00 PM , from the ticket counter to gateman everyone discouraged, saying that as it is raining, the thars would have gone into hiding. Even then - we have insisted to give ticket and we are happy that we did it. Even though we couldn't see any thar - we could enjoy the serence natural beauty.