Google Chromium OS Open Sourced
A Youtube Video On Google OS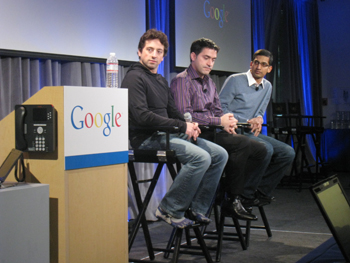 From left to right: Sergey Brin Google co-founder, Matt Papakipos, Google engineering director, and Sundar Pichai, Google VP of product development.
For microsoft and others OS may stand for "Operating System" but google makes it's OS - read as "Open Source". So going by the online buzz last week, Google finally releases the Chromium OS, not complete OS but as expected it outsourced it's code for online developers - Read the Google Blog Post here .
The Blog Post reads "In July we announced that we were working on Google Chrome OS, an open source operating system for people who spend most of their time on the web.

Today we are open-sourcing the project as Chromium OS. We are doing this early, a year before Google Chrome OS will be ready for users, because we are eager to engage with partners, the open source community and developers. As with the Google Chrome browser, development will be done in the open from this point on. This means the code is free, accessible to anyone and open for contributions. The Chromium OS project includes our current code base, user interface experiments and some initial designs for ongoing development. This is the initial sketch and we will color it in over the course of the next year."
Google opened its doors to the press Thursday to show off itshotly anticipated Chrome operating system for the first time. In a small auditorium in Mountain View, California, Google VP of Product Development Sundar Pichai took to the stage to give the media people a demonstration of what Chrome OS actually is.
The OS is promised to be different, completely unconventional - actually Google while announcing plans of a OS - it was said " all OS now in use are designed when there is no web and Chrome OS will be completely based on web" . The google blog puts two striking features of the OS=
Firstly it will all about the web. All apps are web apps. The entire experience takes place within the browser and there are no conventional desktop applications. This means users do not have to deal with installing, managing and updating programs.
Second, because all apps live within the browser, there are significant benefits to security.The browser app will not thrust any program even itself, every time you restart your computer the operating system verifies the integrity of its code. If your system has been compromised, it is designed to fix itself with a reboot.
And Finally - Google Chrome OS is planned to be ready for consumers this time next year. Btw if you like building your operating system from source, get involved at chromium.org.
Feedback Please.. Please Drop your comments.