Google Comes with Barcode!!!
Google.com comes with bar code

, no need of panic you don't need any Decoder to search or click on the results. It is yet another Doodle by Google, this time to mark the 57th anniversay of the patent of Google. Google changed it's logo to mark the occassion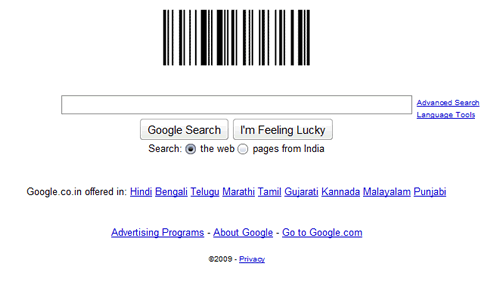 So google tinkered with it's logo to mark the anniversary of Bar Code patent
Recent Google Doodles are for the Occassions of Gandhi Jayanti and on it's own 11th anniversary.
Now going into the info about barcodes- All new products, books, Courisers, Tshirts , Jeans, I cards, Library cards come bar coded. It is a common scene in super markets of either developed or developing nations a cashier wih a decoder, scaning all the goods taken.
The bar coding system is almost universal. Now that India's Unique identification number for each and every citizen , they may bacode it on forearms

( Just a Bad Joke ). The first use of barcodes was to label railroad cars, but they were not commercially successful until they were used to automate supermarket checkout systems, a task in which they have become almost universal. Their use has spread to many other roles as well, tasks that are generically referred to as Auto ID Data Capture (AIDC). Other systems are attempting to make inroads in the AIDC market, but the simplicity, universality and low cost of barcodes has limited the role of these other systems.
On 20 October 1949 Bernard Silver, Norman Joseph Woodland,Jordin Johanson(of Drexel Institute of Technology, Philadelphia) filed a patent application for "Classifying Apparatus and Method", in which they described both the linear and bullseye printing patterns, as well as the mechanical and electronic systems needed to read the code. The patent was issued on 7 October 1952 as US Patent 2,612,994. In 1951 Woodland and Johanson moved to IBM and continually tried to interest IBM in developing the system. The company eventually commissioned a report on the idea, which concluded that it was both feasible and interesting, but that processing the resulting information would require equipment that was some time off in the future.In 1952 Philco purchased their patent, and then sold it to RCA the same year.
Intrested in more Barcoding - then Google out or just click on the tinkered logo on Google search page... any how the relavent informtion is on Wikipedia