Happy Birth Day Google !!!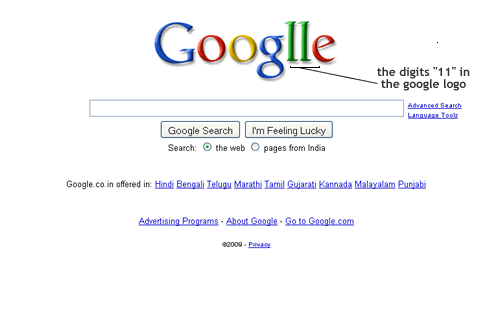 Google has tinkered with the logo again - to marks it's 11th anniversary . The above image is the screen capture of the google home page. The google's doodle created confusion as people are discussing why google added double 'l' (LL) to it's logo
So it is the birthday of the world's most visited website(Ya i mean the google

) . Google has tinkered with its famous search page logo yet again to mark its 11th year as a company.
If you want to have a look at various google's doodles(the various google logos) on various occassions - click here to have a look (the link is of google website) and few more (Gaurdian Website link)
However, there is some confusion over the exact date of the company's birth. Last year, Google put up its 10th birthday logo on 2 September and, according to its Wikipedia entry, it was incorporated as a privately held company on 4 September 1998. Google, whose name originated from a misspelling of the word 'googol' - a one with 100 zeroes - may have been unable to celebrate its own birthday until now because it has been busy changing its famous masthead to reflect other anniversaries.
But when google decides to celebrate it today - then it is today
Any way the growth is phenomenal - within just 11 years from a University project to a Search Engine gaint with billions of turn over. Surely it is a day to celebrate...

Many Many Happy returns of The Day Google!!! sorry Goog'll'e

Best of Luck!!!