Microsoft Shows Off Slate PC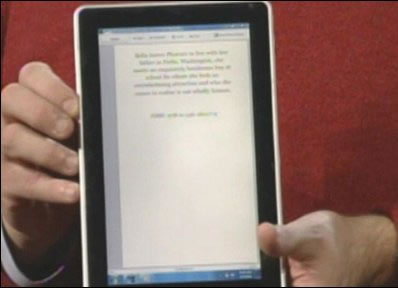 Microsoft and Hp tie up for Slate PC.
As the heat is building up for Apple's iSlate, a sudden change has been occurred in the atmosphere. And it comes from one the oldest buddy of Apple, Microsoft.
Aiming to fend off competitors in a bid to expand Microsoft's consumer reach, CEO Steve Ballmer announced a new slate computer Wednesday night as he kicked off the annual International Consumer Electronics Show.Microsoft and HP have teamed up to introduce the slate computer ahead of Apple's much rumoured device launch.
Essentially a laptop with no keyboard, the computer comes as rival Apple prepares to introduce a much-hyped tablet PC of its own later this month.
"We are talking about something as portable as a phone and as powerful as Windows 7," Ballmer said to an audience of more than 3,500 at the Las Vegas Hilton Center. "And they are perfect for reading, for surfing the Web and for taking entertainment on the go."
Apple are reported to also be gearing up to launch a slate device in late January to go on sale in March, according to the Wall Street Journal.
The HP device is also expected to go on sale later this year.
There is no much reaction to the launch. Even I tried searching on google and it hasn't thrown any great news which it would do for any such path breaking launches.

The lack of enthusiasm for the product was in part due to speculation about what - if anything - Apple may launch.
Rumours of a Apple slate - dubbed the iSlate - has dominated the blogosphere in recent weeks, although ithere has been no formal announcement by the Cupertino-based company.
"Apple tends to change the game and this Microsoft/HP tablet didn't blow them out of the water," said Dean Takahashi of tech blog VentureBeat.com.
"How successful it will be is up in the air, but HP is the biggest technology company in the world and can certainly put a lot of muscle behind the device," he added.
The Below video shows a concept how it will look like.
And here is some info on a Futuristic Computer(MIT research) that Understands Hand Gestures