Launch of PSLV-C15 with CARTOSAT-2B and student satellites scheduled on July 12
PSLV C15 on Launch Pad
Update : PSLV Launch Successful - puts five satellites in to orbits
PSLV-C15 is the 17th flight of ISRO's versatile Polar Satellite launch vehicle, PSLV. In this PSLV will place the 694 kg CARTOSAT-2B and four auxiliary payloads in a 630 km polar Sun Synchronous Orbit (SSO) . ISRO recently announced that the schedule launch of PSLV-C15 will be on 12th july.
CARTOSAT-2B is an advanced Remote Sensing Satellite built by ISRO . This is the 17th Indian Remote Sensimg Satellite. CARTOSAT -2B carries a Panchromati Camera (PAN) similar to that of it's two predecessors - CARTOsAT -2 and 2A . It is cpabale of imaging a swath ( strip of land) of 9.6 km with a resolution of 0.8 meter.The satellite carries a Solid State recorder of 64 GB to store the images taken by it's camera which can be read out later on the ground station.
The Indian Remote Sensing (IRS) satellites form an important element of the NNRMS for providing continuous remote sensing data services for the management of natural resources of the country.
A series of IRS satellites have been launched by India starting with IRS-1A in March 1988. Nine remote sensing satellites of India are in service at present – IRS-P4 (OCEANSAT-1), TES, RESOURCESAT-1, CARTOSAT-1, CARTOSAT-2, CARTOSAT-2A, IMS-1, RISAT-2 and OCEANSAT-2 – making IRS system the largest civilian remote sensing satellite constellation in the world.
CARTOSAT-2B is the latest satellite under the IRS programme. The follow-on satellites in the IRS series include RESOURCESAT-2 carrying an improved LISS-4 as well as LISS-3 and AWiFS cameras and Radar Imaging Satellite (RISAT-1) incorporating a C-band Synthetic Aperture Radar (SAR) that has imaging capability even under cloudy conditions, both during day and night.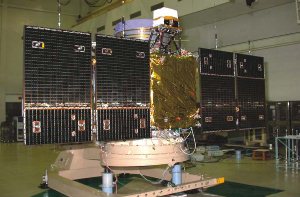 It's imagery can be used for the preparation of detailed forest type maps , free volume estimation , village level crop inventory, canal alignment etc...
Besides it's main payload CARTOSAT -2B ( 694 kg) - PSLV C-15 will also carry four small satellites as axiliary ayloads. Of these , the 116 kg ALSAT -2A of Algeria is a small remote sensing satellite, whereas two Nanosats - NLS-6.1 AISSAT-1 weighing 6.5 kg built by Space Flight Laboratory of the University of Toronto, Canada and another by University of Applied Sciences of Switzerland - are for testing various satellite technologies. The fourth auxiliary payload is a Picosatellite - STUDSAT - weighing less than one kg builat jointly by students from a consoritum of Seven engineering colleges form Karnataka and Andhra Pradesh.
Wishing ISRO "BEST OF LUCK "