PSLV launches Oceansat-2 and Six Nano Satellites!!!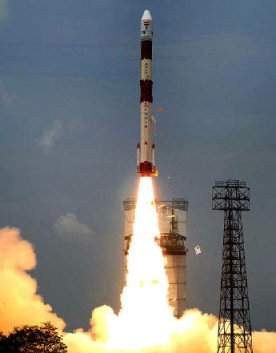 Image Credit : ISRO
Another Cheer for ISRO, with the successive 15th flawless launch of
PSLV
. PSLV C-14 launches Oceansat-2 and six more nano satellites!!! India has successfully launched seven satellites in a single mission, nearly a month after the country's inaugural Moon mission was aborted.
PSLV has repeatedly proved its reliability and versatility by launching 39 spacecrafts (17 Indian and 22 for international customers) into a variety of orbits so far. The ISRO's PSLV-C14 successfully launched its 16th remote-sensing satellite.
The rocket was carrying an Indian remote-sensing satellite and six smaller ones, all of them foreign. The Indian satellite will help spot fishing zones in the sea by monitoring ocean temperatures. Observers say India is emerging as a major player in the multi-billion dollar space market. Wednesday's launch, from the Sriharikota space centre off India's east coast, is being described as another milestone for the country's 46-year-old space programme. This is the 16th mission for India's Polar Satellite Launch Vehicle (PSLV) - a seven-storey-high, 230 tonne rocket.
The Flight
At the end of 18 minutes of flight, the PSLV's fourth stage injected Oceansat-2 into orbit at a velocity of 25,000 km an hour at an altitude of about 728 km. Thereafter, spring-loaded action mechanisms catapulted four nano satellites called Cubesat 1, 2, 3 and 4 into orbit one after the other. The other two nano satellites, Rubinsat 9.1 and 9.2, remained attached to the fourth stage. It implies that the fourth stage went into orbit. "The PSLV is like a wine. With age, it only improves," said ISRO Chairman G. Madhavan Nair. He called the launch mission "a fantastic achievement" and "a thrilling moment for the ISRO team."